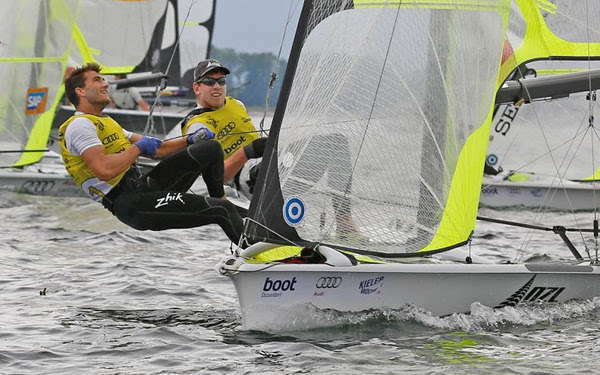 World champions Peter Burling and Blair Tuke have won the 49er Class at Kieler Woche without needing to sail Super Sunday's medal race.
World champions Peter Burling and Blair Tuke have won the 49er Class at Kieler Woche without needing to sail Super Sunday's medal race. So the Kiwi pair, winners of the 2013, 2014, 2015 and 2016 world championships, will go to the Rio Olympic regatta in 40 days time, with their amazing record intact, unbeaten since they took the silver medal at the 2012 Olympic regatta at Weymouth & Portland behind Australia's Nathan Outteridge and Iain Jensen.

Burling and Tuke stepped up a gear today in difficult gusty, puffy conditions and were visibly better around the courses, taking three race wins in a row to give themselves a margin of 26pts going into Sunday's Medal race. They extend their tally of major regatta wins to 27.

The duo came to Kieler Woche looking to get their mindset back into '49er racing mode' after time out racing in the America's Cup World Series,
Tuke summed up their immaculate performance today:
"We were hoping to go out and put down a good performance today. Racing has been tight all week so it is nice to extend out with a bit of a lead going into the Medal Race tomorrow. It is always hard to say that you have achieved exactly what you wanted to coming here. We are always working on improving our weaknesses and there are always weaknesses, but we are happy to have ticked off a few things. It is good to get up here and do some more racing, to get our heads back into racing.

The medal race is always important. It is always good to do them. It's part of the Olympic programme and so you always need practice at those things. It should be a good bit of fun and hopefully with a nice breeze."

In the 470 Junior World Championships Japan's Keiju Okada and Naoya Kimura go into Super Sunday's Medal Race with a lead of 10 points over Germany's Malte Winkl and Matti Cipra.
Conditions were most difficult for the first race of the day when the wind was lightest and the building, moving rain clouds were dragging the 7-9kt breeze around creating some big shifts in direction. That, once again, set the tone of the day. Unfortunately for the local heroes, Winkl and Cipra, their bid to overturn the Japanese lead over today's three contests started badly when they were given a BFD disqualification while Okada and Kimuara sailed to an impressive victory.
The second race was a bit more open. The wind picked up with pressure built more evenly over the course, but still with some big puffs. Successive rain clouds brought wind and then after the clouds had gone there was less wind. It was really difficult to see the puffs and lulls on the water. Italy's Giacomo Ferrari and Guilio Calabro ensured they have a solid place in the Medal Race winning the second race of the day and then placing second behind Daicha Takayama and Akira Takayanagi, the Japanese crew. So Japan will have two crews in the Medal Race and France three, defending 470 Junior World Champions Guillaume Pirouelle and Valentin Sipan holding third, two points behind Winkl and Cipra and 12pts behind the class leaders Okada and Kimura.
"We will fight with everything we have got to win tomorrow." Said crew Kimura, "We had good starts today and were fast." Germany's Malti Winkl surveys their prospects for Sunday:
"We will see how we go in the Medal Race. We have done quite a lot of them now and so we are experienced and have gained places on the Medal Race and that gives us confidence. Everything will be close and it can be very shifty on the course in front of the Harbour so we have to sail our own race."

The Women's 470 Junior World Championship is not as open. From their three races today sailed in 4.9 to 15kts Spain's Silvia Mas and Paula Barcelo won twice to mean they go into the Super Sunday Medal Race with a lead of 14pts over France's Marina Lefont and Lara Granier, while Greece's 2015 runners up Maria Bozi and Rafailina Klonariou are third, one point off second.
25/6/2016 09:17