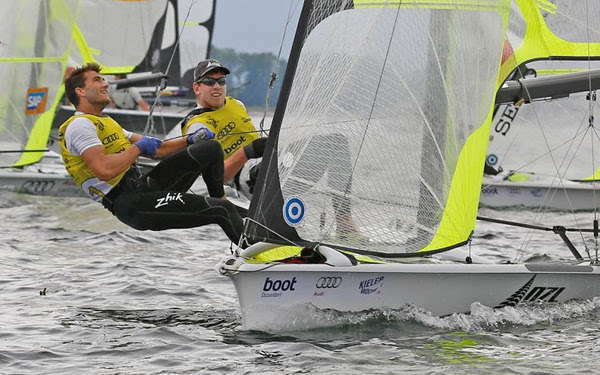 The outcome of the 49er class had already followed the pre-event to the letter. Peter Burling and Blair Tuke had already won the title with a day to spare. But the major championships hosted at Kieler Woch were nowhere near as cut and dried.
The grand finale to the world's biggest sailing regatta, Super Sunday gave the huge crowds enough to cheer about in the warm sunshine.
The Men's 470 Junior World Championships went close to the wire but Japan's Keiju Okada and Naoya Kimura held on to win their first big, major title together, winning overall by three points from Spain's David and Alex Charles who won the Medal Race. In the 470 Women's World Championship Spain's Silvia Mas and Paula Barcelo were more convincing winners, sailing to second in their Medal Race.

In the 95 boat J/70 European Championship Italy's Claudia Rossi won her first champoionship in the class just three months after sailing her boat for the first time. Her Petite Terrible is a graduation present from her father Alberto who won the ORC World Championships on his TP52 Enfant Terrible on the same Kiel waters three years ago. With her crew, lead by tactician Michele Paoletti, she won the European title with a margin of 12pts over compatriot Stefano Roberti who sails for the Monaco YC.

Alt text
Like her father: Claudia Rossi chased the title successfully. Her Italian crew wins the J/70 European Championship at the Kiel Week. Photo: segel-bilder.de

Burling and Tuke head for Rio unbeaten since their 2012 silver medal behind Australia's Nathan Outteridge and Iain Jensen. They had their Kieler Woche win in the bag before today's medal race in which they finished fourth.
"It is always a little bit hard to get fully geared up for the medal race when you have already won the regatta, but it was great fun, a good breeze and flat water. The conditions over the week were what we wanted – a good range including some very light, tricky stuff which is good practice for Rio. It is all about Rio for us." Burling commented.
Coach to the Kiwi World Champions, Hamish Wilcox concurred: "It was great event, just exactly what we were looking for, some light air and a proper, well organised event. It is the closest regatta to the Games, a good fleet very close to the Games. There are so many different reasons why they are doing so well. They just want to keep this momentum up, to keep learning and to keep pushing. It is what you have to do to win a gold medal in Rio. The unbeaten record is not the focus, it does not mean anything, it's only about winning in Rio."

If the 49er class in particular were focused on Rio preparations it is Japan and Spain which show most promise in the 470 Junior World Championships, looking to Tokyo 2020. Japanese crews took first and third in the Mens fleet and Spain won the Women's title and finished runners up in the Men's Championship.
Keijua Okada and Naoya Kimura emerge from Japan's prolific Universities 470 sailing programmes, Okada was third in the Optimist Worlds in Malaysia as a youngster and finished fifth in the 420 at the ISAF Youth Worlds in Dublin. They were not able to impose themselves quite as well in the 11-13kts breeze today but have been impressive in the shifty, light conditions.
David and Alex Charles of Spain fought back after two weighty scores in the last couple of days – finding themselves on the wrong side of big, unexpected windshifts on both occasions – and won the Medal Race from the start gun, to finish runners up.
"We are so happy to be champions. We had a bad start and at the time I felt bad, very nervous, but we just kept pushing and got up to sixth. So we cant quite believe it. We had to do the maths carefully and check the blackboard to be sure. But we feel great." Said Okada. The winning duo have only sailed together for one year and sailed for their universities Wasada and Nippon Universities. "We are looking to stay together and be at the Olympics next time."
The Charles brothers take second and Japan's Daichi Takayama and Akira Takayanagi finished third. Outgoing 2015 Junior World Champions Guillaume Pirouelle and Valentin Sapin fourth. Mutual support, looking after each other, seemingly always with a smile, has been key to the winning formula for Spain's Sivia Mas and Paula Barcelo. Their overall regatta lead was never in danger today. They seized the opportunity to break from covering the French and Greek rivals on the last beat to jump up to second, behind Germany's Fabienne Oster and Anastasiya Krasko.
On the overall standings France's Marina Lefort and Lara Granier took second, overhauling Greece's Maria Bozi and Rafailina Klonaridou who finish third and were runners up in 2015. "We have worked so hard for this. This is big for us. We work so well as a team. Here the wind is very shifty, it is very complicated and so it is normal that the crews get angry with each other, but like we are always at one with each other, we are always helping each other. We support each other and every race that was bad we made it go good. And we are fast. Our coaches are Gustavo Martinez (Doreste) and Natalia Via Dufresne (double Olympic silver medal). They make the boat fast, we just turn up and sail!" smiles helm Silvia Mas. Stefano Roberti made the best possible finish to the J/70 European Championships, scoring three back to back wins, but the Monaco flagged Piccinina could make no impression on Claudia Rossi's amazingly consistent Petit Terrible. Rossi and her crew Matteo Mason, Simone Spangaro and Michele Paoletti, never scored worse than fifth over their 11 race series, composing a finally aggregate of 29pts. Significantly they avoided the plague of Black Flags which affected many of the top teams, all four of the teams left chasing the Petite Terrible had discarded BFD's on their scoreline.

It is 24 year old Rossi's first ever big regatta win. And despite her tender years, or rather months, of racing at this level she is the one pushing her crew to keep improving: "We are very close as a crew but we are always working and focused on trying to do everything better, to keep trying to get to the next level. But I never thought we would win here. We try to do things better every day. I am very competitive and love this racing. Today was good there was a bit more wind outside and we just concentrated on winning the regatta. We could have done some things better but we wanted to just make sure we won." Germany's Philip Buhl had the send off to Rio he wanted, winning the Laser class 30pts ahead of Italy's Giovanni Coccoluto. In the 49er FX class Tina Lutz and Susann Buecke won overall and so got the better of the duo which Germany sends to Rio, Victoria Jurczok and Anika Lorenz.
26/6/2016 19:20